New Year's Eve 2018/2019
Jama Michalika – Cracow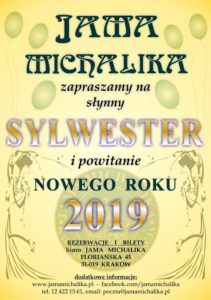 Legendary restaurant "Jama Michalika" want to invite you for a New Year's Eve 2018/2019.
At this special night you will experience the sense of Małopolska province culture.
Our Chef will prepare traditional dishes from Małopolska province cuisine.
MENU:
Welcome drink with absinth
Starter:
Salmon in puff pastry with garlic or seffron sauce
Soup:
amber chiken soup with raviolis or broccoli cream with puff peas
Main course:
fillet of beef with mushrooms and pork chine roasted with onions and rolled in bun
For extras:
potatos and mix salad
Diffrent cakes or New Year's Eve icecream "from Michalik"
coffe or tea
Cold Buffet:
meat pie with cranberry or black currant sauce, Stuffed eggs, Trio of herings, Breadstuff
Second dish:
beetroot soup with croquette or traditional polish sour soup
Cold drinks:
water or juice
Alcohols:
0,75L buttle of wine for two persons or 0,5L buttle of vodka
for two persons or sparkling wine
As every year we want to invite you to spend a new year in our unique,
Małopolska province interior of Jama Michalika.
* music with DJ.
Price of our New Year's eve is PLN 350 (~85 €) per person.
*** We give a discount of 10% for groups more than 10 persons ***
Please make a reservation in our office:
ul. Florianska 45, 31-019 Cracow
or
e-mail: poczta@jamamichalika.pl
BANK PKO BP
IBAN:  PL75 1020 2892 0000 5602 0238 1325